Idea protectors with a fresh perspective.
Idea protectors with a fresh perspective. Custos IPC stands for innovation. The world is full of innovative ideas, concepts, and companies. Custos IPC aims to secure innovations for its clients in its own way. This naturally doesn't mean that we will take different legal paths, but we do engage in thinking, observing, and looking ahead with our clients. Identifying opportunities and threats in a timely manner and acting upon them. Proactive and constructive. Intrinsic motivation, genuine interest, and working with pleasure on your impactful innovations.
We believe in approaching things differently. Creative thinking to collectively get to the best solution. Custos IPC is a cooperative of independent professionals. Specialists in the field of patents, trademarks, designs, strategic advice and patent searching.
Innovative ideas and concepts deserve proper protection. Custos IPC provides this. Whether it's about patent applications or protecting trademark and design rights, within our cooperative we always ensure the right expertise at the right time and in the right place. This can be done on a project basis or on a partnership basis.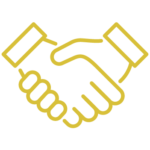 Have you read enough, and would you like to exchange thoughts? That's possible. Please get in touch with Bas; he is more than happy to assist you.